Health & Safety
It is Johnson & Herbert Construction (1988) Inc.'s belief that accidents can be prevented. Safety is an attitude which we try to instill in all of our employees and sub contractors, and is a condition of employment.
At Johnson & Herbert Construction (1988) Inc. work site safety is not just a priority, it is essential in the success of our company operations. Our safety personnel provide onsite monitoring, site specific safety plans, guidance with many safety related issues and more…
Our safety staff provide year round training from initial orientation of all employees to more specific courses. Examples of training courses proved are:
WHIMIS
CSTS (IRP16)
TDG
CONFINED SPACE
FIRST AID
HAZARD ASSESSMENT TRAINING
H2S
PETROLEUM SAFETY TRAINING
GROUND DISTURBANCE
FLAG PERSON TRAINING
Johnson & Herbert Construction (1988) Inc. has an exceptional Health & Safety program and maintain a Certificate of Recognition issued by the Alberta Construction Safety Association. We are also an accredited member of Partnership for Injury Reduction Program (PIR).
We are committed to:
The safety of all personnel, sub contractors, clients and the public. The protection of the environment and the protection of the physical assets at all sites is of utmost importance in the conduct of our business.
Management is responsible for providing a safe work environment and for ensuring that work is performed to accepted standards.
All management functions will comply with company, government, and industry acts and regulations as they relate to engineering design standards, materials, rental equipment and hiring of sub-contractors.
Each employee is responsible for working safely with equal concern for the safety of all co-workers.
All risks can be avoided or controlled.
Safety excellence can be achieved through careful planning and the support and active participation of everyone.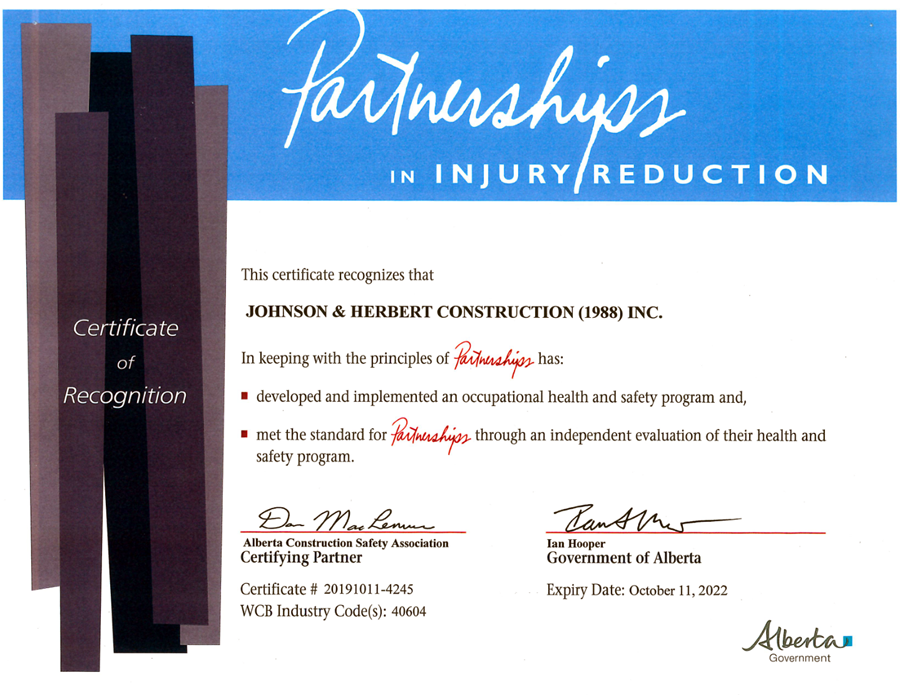 SAFETY KEEPS OUR MOST IMPORTANT ASSETS SAFE…OUR PEOPLE!!!